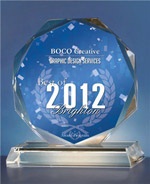 For the second year in a row, BOCO Creative has been selected for the 2012 Best of Brighton Awards in the Graphic Design Services category by the Brighton Award Program committee. This is an annual awards program honoring the achievements and accomplishments of local businesses throughout the Brighton area.
This morning I've received an email notifying me of the award. It reads,"Our selection of your company is a reflection of the hard work of not only yourself, but of many people that have supported your business and contributed to the subsequent success of your organization. Congratulations on joining such an elite group of small businesses."
Here's their press release!