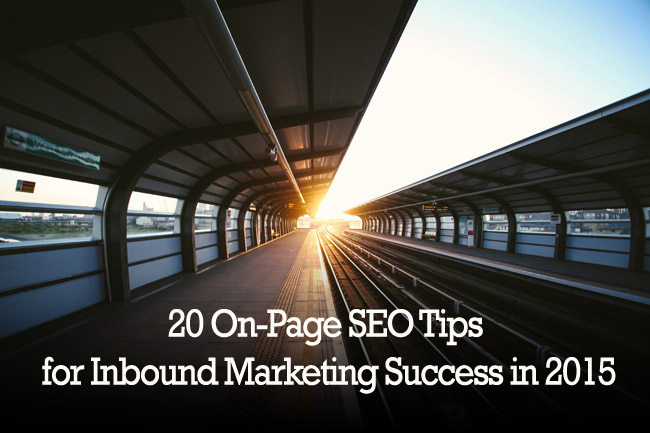 SEO changed dramatically over the last 10 years. While you can no longer game the system with simple tactics, it is still all about bringing the right people to your site through search engines. But, SEO in 2015 is wildly different from what it used to be, so before we move into specific SEO tips, it's important to note the way that search engine landscape has changed over the last decade or so.
Google's focus on improving their algorithm started with the crackdown on keyword stuffing all the way back in 2003 and hasn't weaned much since. The last 2-3 years especially, with Panda (25 updates to date!), Penguin & Hummingbird updates, we saw more changes than ever before. At times, it's been really hard to figure out what companies should do to stay afloat online, let alone conquer the top of search engine result pages.
The bottom line is, what used to bring sites up to the top of search engines before, can now hinder you greatly, or worse yet, get you penalized. In this article, we'll review the best SEO practices for 2015 to help you and your business succeed online in this very competitive era of marketing.
20 On-Page SEO Tips for Inbound Marketing Success in 2015
Since 2006, inbound marketing has been the most effective online marketing method. This sort of marketing relies heavily on creating quality content that brings customers to your website, towards your product and business.
So what does SEO mean in the era of inbound marketing? What efforts should you focus on in 2015?
Focus on quality content on a properly built site with quality inbound links.
Make sure your website is easy to use, navigate, and understand.
Be useful – your readers will bring more potential customers when they share your good stuff online.
Focus on your customers' needs and create content that helps fulfill that need.
Publish content that's personalized and relevant. Tailor your content to the needs of your customer.
Don't overlook the importance of linking to relevant pages (both internal and external) and helpful supplemental content related to the theme of the page.
Focus on a strong headline, ideally 4-9 words, that will inform users what the page is about.
Think of your homepage as a gateway to your business – it should inform the visitor who you are, what you do, what makes you good at it and what should the visitor do next.
Tell the customer your story, keep it simple, make it about your customers and what you can do for them.
Optimize our sites' content by integrating it with your social media campaigns. Keep in mind the appropriate target audience – and platform – you don't want to end up with 10 social media buttons on your site.
Optimizing your website for mobile-friendly user experience is critical in 2015.
Make sure your website is intuitive and easy to browse.
Make sure your website is crawlable (use tools like Google's cache, SEO-browser.com, or the MozBar to see what elements of your content are visible and indexable to the engines) and has an XML sitemap.
Even though meta descriptions don't affect your rankings, they're still important – meta descriptions are the primary source for the snippet of text displayed beneath a listing in the results and as such engage the user to click through to your page.
The title tag should be an accurate, concise description of a page's content. Stick to 65-75 characters, place important keywords close to the front, and think about the entire user experience when you're creating your title tags, in addition to optimization and keyword usage.
Keyword density is not a part of modern ranking algorithms but still play a significant role. Use the keyword in the title tag, near the top of the page, at least 2-3 times, including variations, in the body copy on the page, in the URL, and in the meta description tag. Be smart about keyword optimization as overusing keywords can get you in trouble. Write for humans first, search engines distant second.
Google Authorship was a confusing and short-lived part of Google's world – but it no longer exists so don't waste your time setting it up.
Linking is not a numbers game anymore. Relevance & diversity rule over quantity. Buying, renting, or trading links is a no-no, so is using networks to exchange links or content. When building links, go slow & go steady.
Local SEO is very important, more so now than ever before, and not just for local businesses. Consistent citations are critical.
Don't spread your SEO thin – it's better to have one strong presence, than 10 sites pointing to your main site (you still have to optimize & market all of them, thinning your efforts).
In essence, easy up on your link-building and keyword-obsessed tactics and focus on building quality content customers will flock to (once you let them know where to find it).
No need to spam, use inauthentic tactics & gimmicks, try to outsmart the engines. Be useful and spread the word. Let your customers choose you because your product/service can help them, not because you're pushing it down their throat!
If you need help creating an SEO strategy for your business, please contact me for help!