Through the last couple of months I've been working on various projects in both design & marketing areas. I've been involved in website redesign for FSR, website maintenance and business cards design for Hip to Hip and revamping local marketing efforts for Armor ProSeal, amongst other projects.
Website Redesign & Realignment for FSR
FSR, an Illinois roofing contractor, needed to have their website redesigned to make it look for professional, modern and appealing. At the same time, our goal was to create a site that's more user-friendly, trustworthy and actionable.
Here's the original look: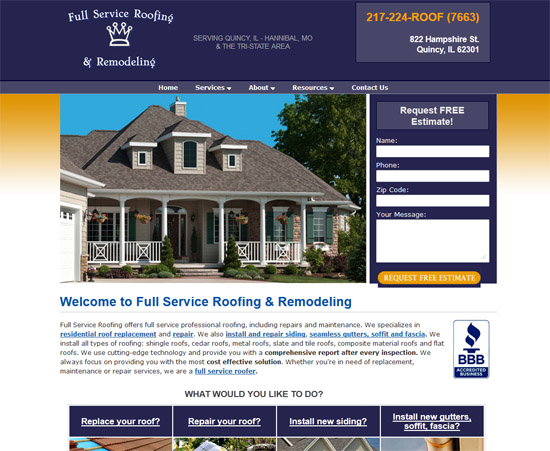 We cleaned & polished the design all while keeping the original color-scheme and overall look & feel of the website. We upgraded the colors, fonts and layout creating a more appealing, friendly and unified look. At the same time we improved usability by making layout and content adjustments. Actionable buttons, better forms and multiple contact choices were added to improve conversion as well.
Landing page was also upgraded with a photo-slideshow while subsequent pages were built to focus primarily on better usability, content flow and conversion as well.