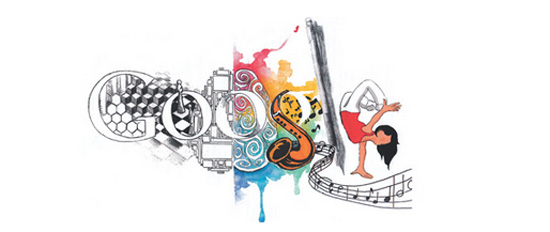 There's a lot of confusion around Google Authorship and Publisher schema and many question what they're about and whether their business needs to implement it as part of their marketing strategy. I'm here to show you in layman terms how to make that happen.
Love it or hate it, the reality is, Google+ has become an important part of anyone's social media strategy, because 1) you can't ignore Google if you're determined to be successful online, 2) Google+ is poised to be the #1 player in social media in 2014, and 3) Google+ updates are now part of search results (and have been since last year).
To make the most of your Google+ strategy you need to learn about the difference between rel="authorship" (verified profile page) and rel="publisher" (verified brand page).
Setting Up Google Authorship & Publisher Markup
Google Authorship
Google Authorship markup facilitates a two-way connection between your Google+ profile and your content anywhere on the web.  In other words, authorship tags every piece of content you create and attributes it to you, influencing your AuthorRank with Google. At the same time, content tied to a verified profile will rank higher that one without verification, especially if that profile itself ranks well among competing profiles.
Setting up authorship can be done in two ways.
If you have an email address on the same domain as your content (ie. [email protected]), then simply verify your email.
Otherwise, you'll need to link your content (website/blog/every article you write) to your Google+ profile using rel="author" tag. This is a bit more involved process but Google Webmaster Tools offers a detailed guide to walk you through it.
Once you're done setting it up, test it via the Structured Data Testing Tool. The results should look like this: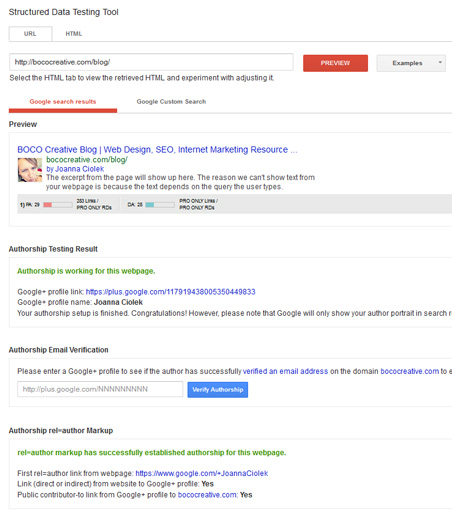 Google Publisher
Google Publisher markup creates a verified connection between your official web site and your Google+ brand pages. Although not as critical as Authorship (yet), I'd still suggest companies implement it, especially if they blog.
Setting up publisher info is much more straightforward than authorship markup.
Setup a link from your Google+ Page to your official web site (Important: use the exact URL, ie http://www.yoursite.com/ vs. http://yoursite.com/).
Link back from your web site to your Google+ Page by adding a link in the header of your site with rel="publisher" schema attribute: <a link="[your-google-page-url"] rel="publisher"> or installing a Google+ Badge.
As with Google Authorship, you want to test your setup using the same tool as before. You should get the following:

It is important that your website uses both rel=publisher and rel=author tags correctly, when appropriate. If you or your business needs any help setting those up, please contact me for help!