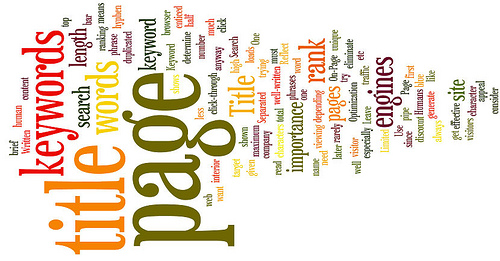 When it comes to search engine optimization, title tag is one of the most important SEO factors to consider.
Importance of Title Tag
Title tag is basically the text that appears in the top line of a user's web browser. It is also the text used when bookmarking a given page and one that appears in the search engine listings. Everyone involved in SEO is aware of title tag's importance.
It is vital to write a descriptive title tag if you want to optimize your site to rank well with the search engines and to entice visitors to click on your link in search result pages.
Current Use of Title Tag in SEO
We all know that SEO is ever-changing. What used to be important (keyword tag) is now blatantly ignored. What used yo be ignored (site architecture, speed, unique content) is now paid attention to.
Over the years, title tag has remained front and center. Understanding how best to use title tag to your advantage can be rewarding.
Use of Keywords in Title Tag
As the rest of the page, the title should be optimized for your main keyword or phrase for that specific page. While your title tag should not be stuffed with keywords, it is important to understand that keyword association is critical in achieving rankings. As an example, "Colorado Roof Cleaning, Powerwashing | Al's Roof Wash" will fair better than "Al's Roof Wash – Get Your Roof Cleaned With Us"
Keyword Prominence
It is also known that most important keywords should be used early in the title. While the first word in the title tag is most relevant, the initial 3-4 words are the most critical for two reasons: they instantly identify what the page is about plus by including them in the beginning we can make sure that they are not cut-off by search engines.
Inclusion of Brand Name
It's ok for brand name to be included in the title tag. The issue is with placement. Many small business owners insist on starting the title with the company name but that may not necessarily be a smart strategy. As per the point above, the title should begin with the most important keywords you are trying to rank for.  Unless your brand is widely recognized and can improve click-through rates, it should be placed toward the end of the title tag, if at all.
 Special Characters
Some sites include special characters (hash mark, dollar sign) in the title tag to stand out but for most website it doesn't make sense. Staying within standard usage would be smarter – that's what the user is familiar with and that's what he/she expects. Also some of those characters may not being displayed correctly by browsers so it's smart to avoid them if possible.
Length of Title Tag
First of all, there are limits  as to how many characters are used by search engines and promptly displayed in search result pages and that's 70.  Secondly, there's a whole issue of possibly diluting the strength of the title tag by including too many characters.  Going beyond 70 characters certainly makes little sense but I'd argue that shorter is better as long as it's descriptive enough for the user.
//
Creating a well-crafted title tag takes work and frankly many website owners are afraid to modify or tweak it later on ("if it ain't broke, don't fix it"). Understanding the basics, focusing on usability and then simply trial and error is the way to go. And remember, there is no silver bullet to title tag optimization.