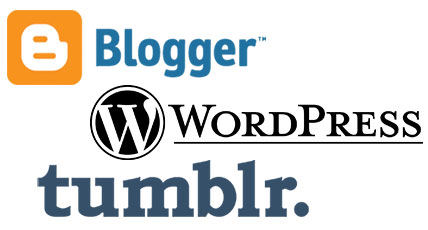 Whether you own a brick-and-mortar store or a web-based business, blogging is a great way for small businesses to reach out to customers, engage target audience and market products or services.
While many small businesses understand the concept of blogging and are aware of the benefits, blogging is often viewed as requiring lots of effort and resources.
But you'd be surprised to find out that you can build a great company blog on a budget if you're only willing to do the footwork. Here's how.
Small Business Blogging on a Budget
Start with a free blogging platform. If you can't afford a self-hosted blog, head on to places that will host your blog for you for free. Places like WordPress.com, Tumblr, TypePad or Blogger are all solid free blogging platforms. While not optimal, especially from SEO perspective, this is a great way to connect with your customers at no cost to your business.
Customize your blog to reflect your brand and company message. Not having the budget to hire a designer to customize your blog is no reason to settle for a generic, out-of-the-box blog design. Many blogging platforms offer multiple themes and customization options to make a business blog not only more visually appealing but reflecting your brand's look and feel. Just do a quick search for Blogger or Thumblr templates and you'll be flooded with hundreds of free themes ready for your review and often preview. What sets them apart are not only visual differences but also available features and customization details, so choose wisely.
Upgrade to host your own domain. When you first sign up for a hosted blog, it will be hosted under the provider's subdomain (i.e. yourblog.wordpress.com). Fortunately, many of those companies also offer options for users to host their own domains with a simple and inexpensive upgrade (often for less than $20/year). This is a must for businesses who want to look more professional and established.
Integrate the blog into your business website. If you already have a website, integrating your new blog with the main site is a must. Some platform allow for seamless integration and the process can be quite easy so research your options before signing up.
Create content, grow your business. Getting your blog off the ground can seem daunting, but things will get easier over time. Your main goal is to create quality content geared toward your target audience. Growing customer relationships and ROI is the ultimate reason many business get into blogging. But while you won't notice the results immediately, if you're persistent blogger the rewards for all your hard work will be significant.
Free blogging platforms provide a great opportunity for any small business on a tight budget to venture into the space of social media marketing.
Exploring new ways of growing their business through blogging and other inbound marketing avenues is a great way for any business to stay competitive and relevant.
Small budget is no excuse to miss out on this great opportunity.